Marly Raymondo on Feb 24th 2020
That's right, life is not perfect but hey!... Your nails can be. I'm not talking about nails that you get done at your local nail salon... Yes, those are pretty much perfect but I'm talking about YOU... Yes, you doing your own nails at home. You are probably thinking... Wait, I'm not a nail tech; the truth is you don't have to be.
I used to get my nails done every two weeks, acrylic nails mostly until I found out about Dip Nails, I gave it a go and I thought "Wow!, this is pretty cool and my nails are healthier", so every two weeks I went in for a new dip manicure. Let's just say $100 dollars a month roughly, and that's not including my pedicure. You will save so much money doing your own nails, trust me.
Back in May of 2019 I decided that I was going to "try" to do my own dip nails, just for fun!. I did a little research and watched a few tutorials, it looked simple to me so why not do it?.
I bought a starter dip powder kit from a local beauty supply, it came with instructions so that was a plus. So I started the process, followed all the instructions, step by step and three hours later, my nails were done!. What???, three hours?... OK, first of all, it was my first time doing it, second of all, I'm not a nail tech. Granted, my nails didn't look like the ones at the salon but they didn't look bad; at least not to me LOL.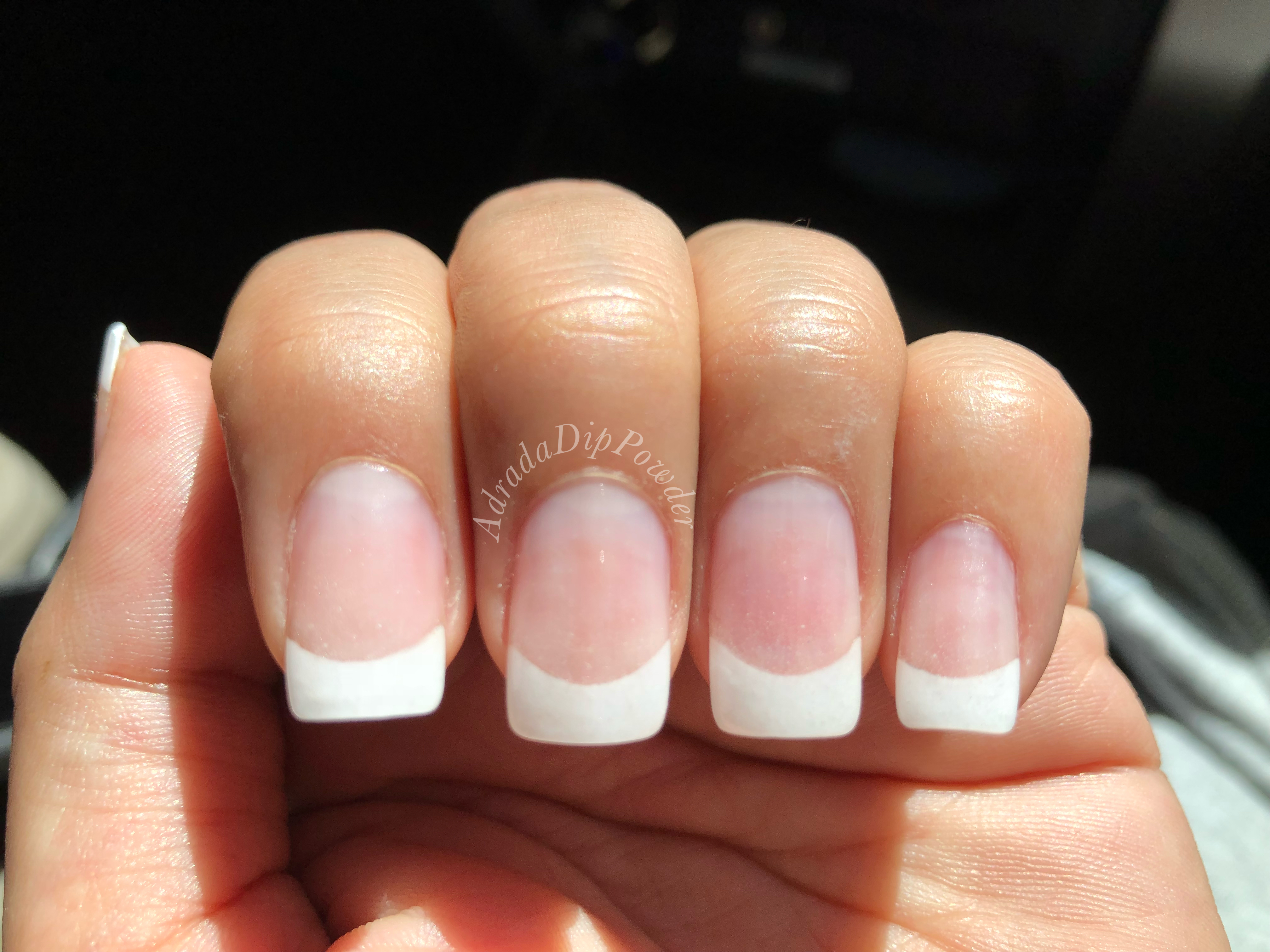 First dip nails manicure May 2019
I was so proud of myself!... I don't really like super wide nail tips but I didn't know what I was doing so I just dealt with it. I didn't use pink and white as usual, I wanted to start easy so I bought white nail tips at my local beauty supply, glued them on and dipped my nails in clear powder. Cuticles are one of the hardest things when it comes to dip nails, I made the mistake of applying the base coat really close to my cuticles...not a good thing... it looked really "thick" by the cuticles, not natural at all; but remember I'm not a pro. I tried to do my best at filing with a regular nail file (I didn't have an electric file back then) which took forever, but that's OK, I was super excited; I quickly realized that I was going to have to buy and electric drill.
I continued doing my nails, sometimes I got frustrated but I got over it. Many times I thought about quitting and just going back to the salon but I really enjoy doing my own nails, it's actually relaxing.
Fast forward to now, after all this months I'm still doing my own nails, I have learned so much about it, there are so many cool tips and tricks. I enjoy it so much that I'm actually starting my own Dip Powder business, I have been creating custom dip colors since December 2019 and I have sold quite a few, I have gotten a lot of positive feedback about my powders, it makes me so happy that people really like my products. As of January 2020; I'm in the very first stages of establishing my own Dip Powder business, I'm talking about my own brand; I'm working very hard to get everything going and launch my products very soon.
You can find me on Facebook and Instagram so you can see all the updates and new dip releases. For now here is my latest dip powder mani.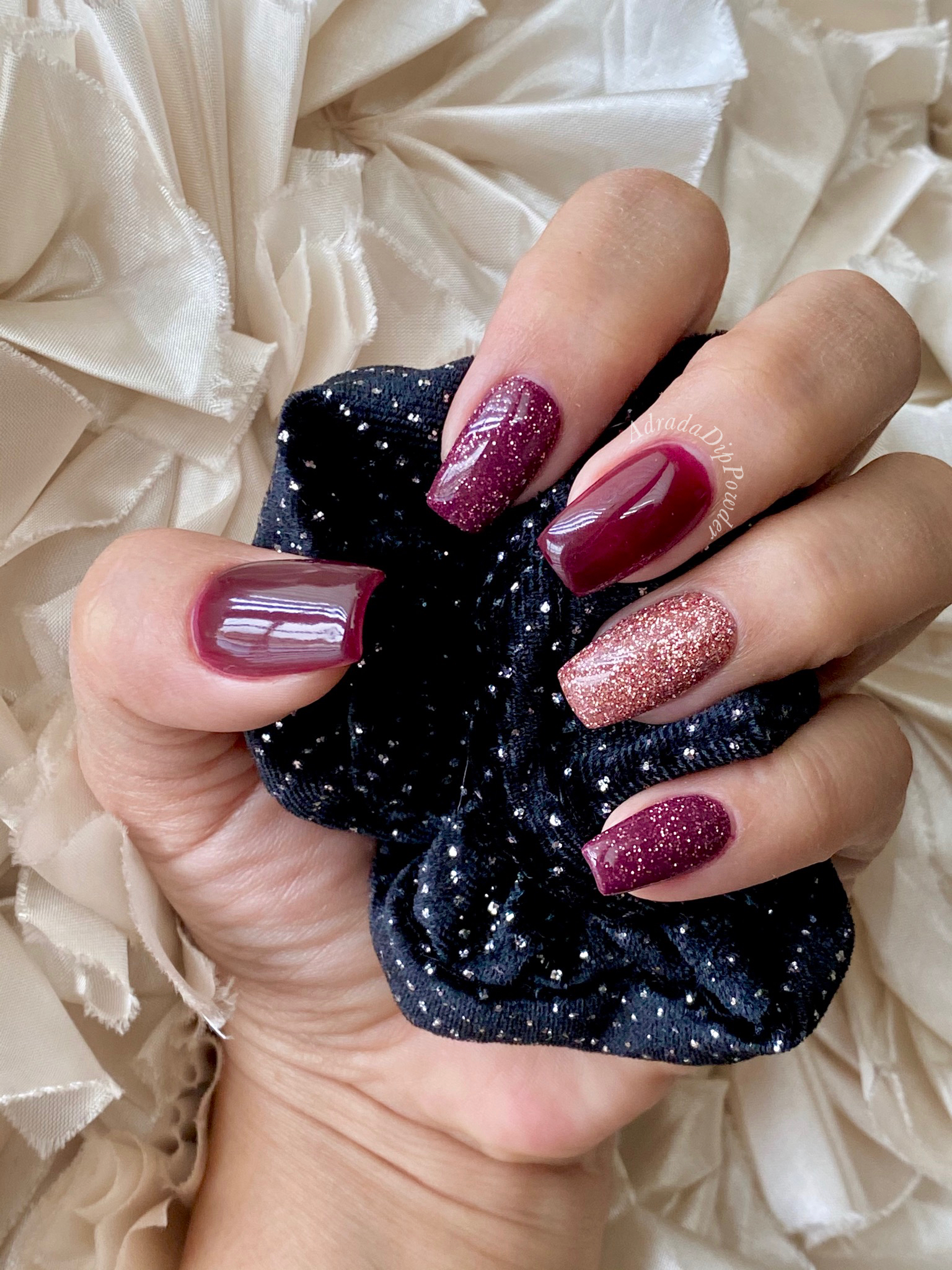 New Years Eve Manicure December 2019